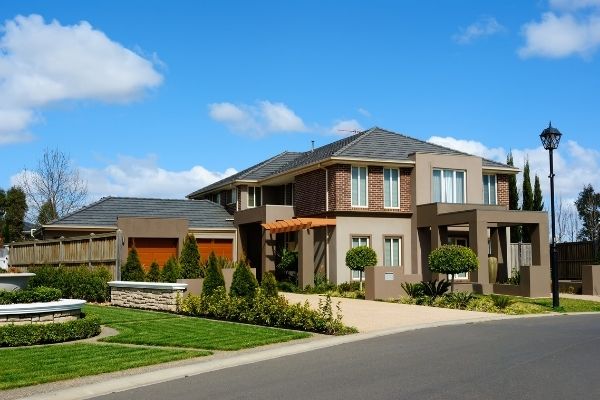 The median house price in regional Victoria passed $500,000 for the first time

The median house price in Melbourne jumped by 8.8 per cent and surpassed the $1 million mark for the first time

This is the greatest quarterly increase since December 2009
According to the September quarter report by the Real Estate Institute of Victoria's (REIV), Victoria's residential median property prices have broken new records with four consecutive quarters showing the highest-ever results.
The REIV report which consists of Victorian real estate's most accurate and comprehensive data reveals the highest annual growth rate recorded to be 22.8% for houses and 18.8% for units in the regional areas over the year. This is the highest annual growth rate recorded in the whole decade.
Geelong, Newtown and Lake Wendouree touched the $1 million mark for the first time. Wangaratta, Lucas and Point Lonsdale are also among the state's top growth areas.
173 suburbs in Melbourne has at least a million-dollar median house price with the overall median price now being $1,072,500 – a 13.8% yearly growth (6% of this growth happened in the September quarter).
The table below shows the top 5 high performers of Melbourne by median house price
| Suburb | Sep-21 Median | June-21 Median | Quarterly Change |
| --- | --- | --- | --- |
| Keysborough | $1,100,000 | $902,000 | 22.0% |
| Beaumaris | $2,270,000 | $1,947,500 | 16.6% |
| Frankston South | $1,250,000 | $1,080,000 | 15.7% |
| Ferntree Gully | $968,000 | $840,000 | 15.2% |
| Keilor East | $1,050,000 | $927,000 | 13.3% |
Source: REIV Website
Keysborough in the Greater Dandenong municipality of Melbourne is the top-growth suburb. The noticeable quarterly change here has been a whopping 22% in the September quarter itself. Beaumaris showed a 16.6% quarterly growth while Frankston South stands tall at 15.7% growth while Ferntree Gully is closeby with 15.2%
Talking about the most affordable suburbs in Melbourne — Hoppers Crossing ($589,000), Tarneit ($592,500) and Cranbourne ($600,000) are on the list.
What are the reasons for the rise in residential property prices in Victoria?
According to the survey done by REIV, the factors responsible for an increase in the annual growth rate vary from lockdown to intrinsic household decisions.
The recent uncertainty caused by COVID-19 across the nation drove the people to rethink their housing decisions and choose better a more sustainable housing option.

The lockdown in the September quarter had a significant impact on the real estate market's working and resulted in the relatively low housing stock, fewer advertisements and transactions.

The market was fueled by strong demand for houses but the listings were low which resulted in price growth even through the lockdown.

People found an opportunity during the lockdown to make some upgrades and renovations to their homes eventually boosting the value of their homes.
Leah Calnan, ex-president, REIV, said, "Throughout the July and September quarters, we received constant reports of low listings and activity. Once restrictions across the state eased, demand and buyer competition skyrocketed."
"Sellers and buyers didn't waste any time getting active in the market," she said. She also talked about the external factors affecting the increase in demand for houses.
"Low-interest rates and government incentives including stamp duty concessions and first home buyers grants added to buyer appetite for the December quarter, while volatility and uncertainty in the Australian equity market have secured property as a preferred investment option for Victorians," she said.
According to Adam Docking, REIV's newly elected president, "There's a distinct correlation between a lack of activity in the market and prices, and as Victoria emerges from COVID-19 restrictions, we expect the market to stabilise. That said, a late start to the typically busy spring selling season means momentum should continue through to Christmas, and a return to in-person inspections is giving buyers and sellers more confidence to transact."
Are people willing to make that $1 million purchase in Melbourne?
A million-dollar home isn't what it used to be but it's still worth considering and checking out.
Let's say if you're looking at a house in Kensington — Melbourne's inner-west, you will get nothing but a 2 bedroom, 1 bathroom palatial house. The only benefit: its proximity to the city. The aspect of proximity to the centre of the city is still desirable to many.
If you move further away from the city i.e. let's say Sandhurst, you can get a dream home with 5 bedrooms, 2 bathrooms and a landscaped garden at a price slightly lower than $1 million.
Breaking into this rising market is hard for first-time buyers. People are unable to afford homes in Melbourne so they are moving to suburbs or regional areas. People are more likely to consider buying in a suburb or regional area to live in their dream home, save money and live a better lifestyle doing what they like.
Based on the readings and trends, Mr Docking opined "The trend in tree or sea change investment and relocation continues with flexible and hybrid workplace arrangements and lockdowns attracting more people to a regional lifestyle."
Moreover, the Victorian Chamber of Commerce and Industry urged the Victorian government to swap stamp duty for land tax to reduce some of the burdens on first-time buyers.