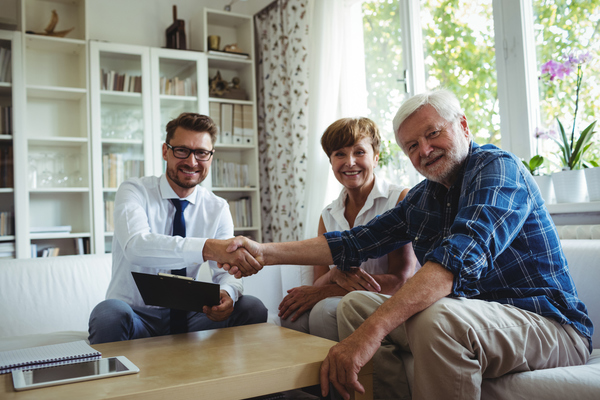 Mention real estate agents and many immediately people immediately think about the negative stereotypes. But, while the antics of a few bad eggs hog the headlines, the reality is that the majority of real estate agents aren't like that at all: they're professionals who work hard to further their clients' - the sellers' - best interests. 
Here are the top three myths about agents debunked. 
Myth 1: You don't need to use a real estate agent
It's true, you could sell your property yourself.  But is it really worth taking the risk?
Real estate agents are property industry professionals. Their job is to act in your - the vendor's - best interests, and get you the best possible price at sale or auction. That means they need to be experts in your local market as well as in negotiating. So using a good local real estate should add to the sale price of your home.In fact, far from helping you save, not using an agent can lose you money by sending the wrong messages to buyers. Many buyers will expect a bargain because you'll be saving on the agent's fee. Others won't even offer because they'll feel uncomfortable or uncertain negotiating directly with a seller… That's if they find your property at all, given many non-agent sales are badly publicised. In other words, saving a few thousand dollars on agents fees may cost you far more in the overall sale price of your property and therefore leave you worse off overall. 
Myth 2: Paying less commission to an agent means the seller makes more money 
If you convince an agent to discount their fees that doesn't always mean you'll end up making more on the sale price of your home. Instead, you have to consider the whole package and what you're actually paying for. Will a lower fee get you the same marketing, publicity and exposure? And, if it does, is the incentive there for the agent to put in the hard work to get the best price?
An agent's commission is typically calculated as a percentage of the sale price. But there's no one true standard commission. Commissions vary depending on the price and type of property and the area you're selling in.Many agents are open to an incentive structure or staggered fee, which means there's a clear advantage to both you and the agent, for them to get you top dollar. As a seller, negotiating a commission fee with your chosen agent is also one of the best ways to test out their sales and negotiation skills, which should be finely tuned.
Myth 3: You can't trust real estate agents
It's important to remember that a real estate agent is employed by a seller, so their duty is to always act in the seller's - or vendor's - best interests. They're also regulated by State and Territory legislation and closely monitored by their relevant Office of Fair Trading.A handful of agents give the industry a bad reputation based on stories about trickery at auctions, gazumping, withholding information about a property, or receiving kickbacks. However these activities are less common than you'd imagine. They're also illegal and against the codes of conduct set down by the Real Estate Institute of Australia. For instance, any rebates or commissions paid to an agent must be disclosed in the Agency Agreement and the client should be notified. Otherwise, an agent can lose their licence, be forced to pay heavy fines and, in the most extreme cases, even face jail. While some agents may have a reputation of saying anything to get a sale, in the main the industry is made up of professionals, who will work hard to sell your home ethically, fairly, and for the best price. After all, bringing in more work depends on having a solid reputation.
Agent Select is a free and independent service that helps consumers select the best performing real estate agent, and negotiate the best terms to sell their property, anywhere in Australia. Agent Select's three step process provides you with a property report, compares sales proposals from three local agents in a customised Agent Comparison Report, and gives you complete freedom to appoint your chosen agent to sell your property with confidence. Find out more at AgentSelect.com.au or call 1300 040 463.